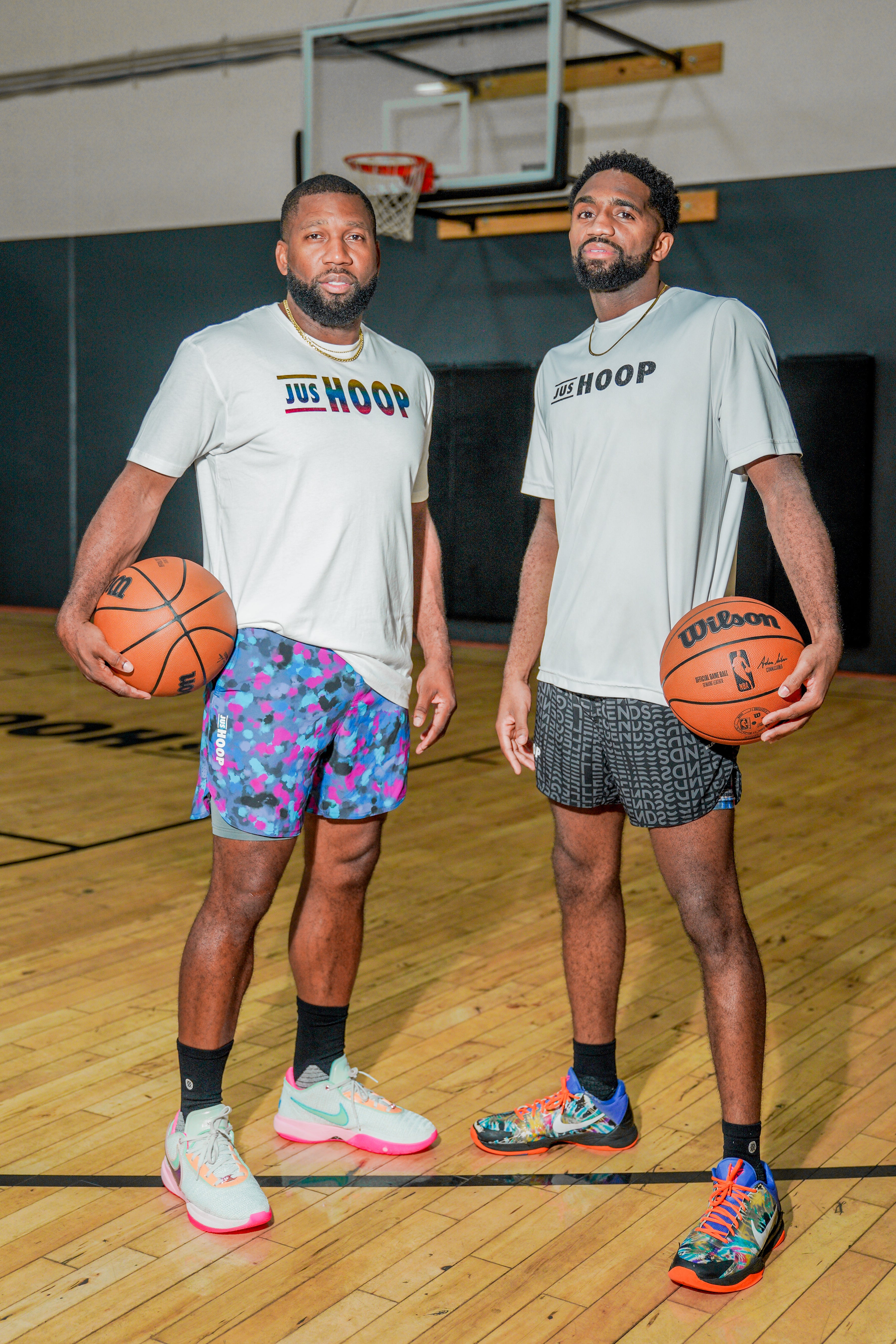 Take your skills to new heights
Dominate the competition with these game-enhancing tips and products.
JUSHOOP GUIDER
Unlock your full potential as a shooter with JusHoop Guider
the ultimate solution for breaking bad habits and developing new muscle memory through thousands of correct repetitions. Stay focused and improve your accuracy, consistency, and control on the court with JusHoop Guider!
JUSHOOP CORRECTION GLOVES
Perfecting your shot with Jushoop Correction Gloves
Jus Hoop Correction Gloves Program Improves SHOOTING,SCORING, & FREE THROWS - Guaranteed.

CEO / FOUNDER & NBA MASTER TEACHER
WHO IS CHRIS JOHNSON?
Chris Johnson is a highly versatile and experienced basketball coach with an impressive record of coaching stints across the NBA, G-League, College, and high school. His expertise lies in evaluating players' strengths and weaknesses, creating player development plans, and helping players build their mental mindset. He has worked with many renowned NBA players, including Dwyane Wade, Jimmy Butler, LeBron James, Rajon Rondo, Chris Paul, Tyrese Maxey, Darius Garland and Andrew Wiggins, and has expanded his reach internationally to teams in China, Europe, Japan, Africa and Australia.
Chris is also the founder of Jus Hoop©, a highly respected basketball player development company based in Los Angeles that offers professional coaching services to players of all levels, from young athletes to NBA veterans and international players. The company provides on-court, online, and classroom training to players and coaches, and is known for its world-class instruction. In addition to his work with basketball players,
Chris is always looking for new and innovative ways to help athletes improve their game, which led him to develop Jushoop. The company's product line includes the #1 shooting aid,  "Jushoop Correction Glove," and a game-changing training tool called the "Guider, Blinders, & Shot Creator," which guarantees significant improvements in shooting, scoring, free throws, and dribbling. Jushoop represents Chris's passion and love for the game of basketball, and his commitment to helping athletes achieve their full potential.

COO OF JUSHOOP & LEAD TRAINER
Who is Cory Smith?
Cory Smith is a renowned basketball trainer and coach with over a decade of experience in the industry. He is currently the COO of Jushoop and the Lead Development Trainer for NBA, G-League, Collegiate Basketball, high school students, and Youth kids for Jushoop.
Cory's ability to evaluate players' strengths and weaknesses and create tailored development plans sets him apart from other trainers. He is dedicated to helping players improve their skills and reach their full potential. Over the years, he has worked with players like Caleb Foster, Mercy Miller, and Isaiah Johnson, among others, and has helped them hone their basketball abilities.
Cory's impressive resume includes assisting Chris Johnson with NBA players such as Tyrese Maxey, Darius Garland, Andrew Wiggins, Jalen Johnson, Jordan Clarkson, Ben Simmons, Kai Jones, Brandon Boston Jr., Miles Bridges, Dwayne Wade, Moses Moody, and LeBron James, to name a few. His versatility and adaptability as a trainer are evident in his work with players at different levels, from youth to professional athletes.
In addition to his coaching duties, Cory is also a sought-after speaker, mentor, and role model. He is passionate about helping young players succeed in basketball and in life, and his positive impact on the sport is widely recognized.
Overall, Cory Smith's extensive experience, dedication to player development, and track record of success make him one of the most respected basketball trainers in the industry today.
Get your game on with JusHoop
Ultimate workout essentials for improving your skills, strength, and performance on the court.
Jushoop Guider
Revolutionize your shooting game with JusHoop Guider. The ultimate game changer that guarantees to increase your shooting percentage and take your skills to the next level!
Testimonials
We purchased this not too long ago and my son has already implemented it into his shooting routine in conjunction with the shooting machine. Having this tool as part of his practice going forward can only improve his overall shooting capability. Great tool for the future shooters in basketball.
During her 8th grade year, my daughter made the varsity basketball team and although she performed well, her shooting technique needed improvement as she relied on a two-handed push shot from her chest. However, we have incorporated a new product into her workouts which has significantly improved her game. She now shoots from the pocket with a pure and accurate release, resulting in more consistent makes. Her muscle memory has adapted to the new technique and it translates seamlessly to game situations. I highly recommend this product to anyone looking to improve their shooting skills. I can't wait to see how my daughter performs during the upcoming pre-season and regular season in November.
Love the shot creator! Kept my son from shooting from his chest. Which made an amazing improvement on his jumpshot!
I bought the shot creator for my son & saw an immediate difference in his shot! This has taken his shot creating & making ability to a whole new level!! Go get this now!! I promise you won't regret it.